If you love Thai cuisine, I've got a treat for you! Introducing my all-time favorite dish: Shrimp Pad See Ew. This delicious and flavorful Thai noodle dish is a perfect blend of tender rice noodles, succulent shrimp, and crispy veggies. If you're ready to indulge your taste buds, let's get started!
Shrimp Pad See Ew Ingredients
For the noodles, you'll need:
16 oz of fresh rice noodles
2 tablespoons vegetable oil
1 tablespoon minced garlic
1/2 pound shrimp (peeled and deveined)
1 cup Chinese broccoli or regular broccoli, cut into florets
2 eggs (whisked)
1/4 cup soy sauce
1 tablespoon oyster sauce
1 tablespoon sugar
1 tablespoon white vinegar
1/4 teaspoon black pepper
Directions for Shrimp Pad See Ew
1. Start by soaking the rice noodles in cold water for about an hour. While the noodles are soaking, chop the vegetables and whisk the eggs and set aside.
2. Heat the oil in a large wok or skillet over medium-high heat until hot. Add minced garlic and stir until fragrant. Then add the shrimp and stir-fry for about 2 minutes until cooked through.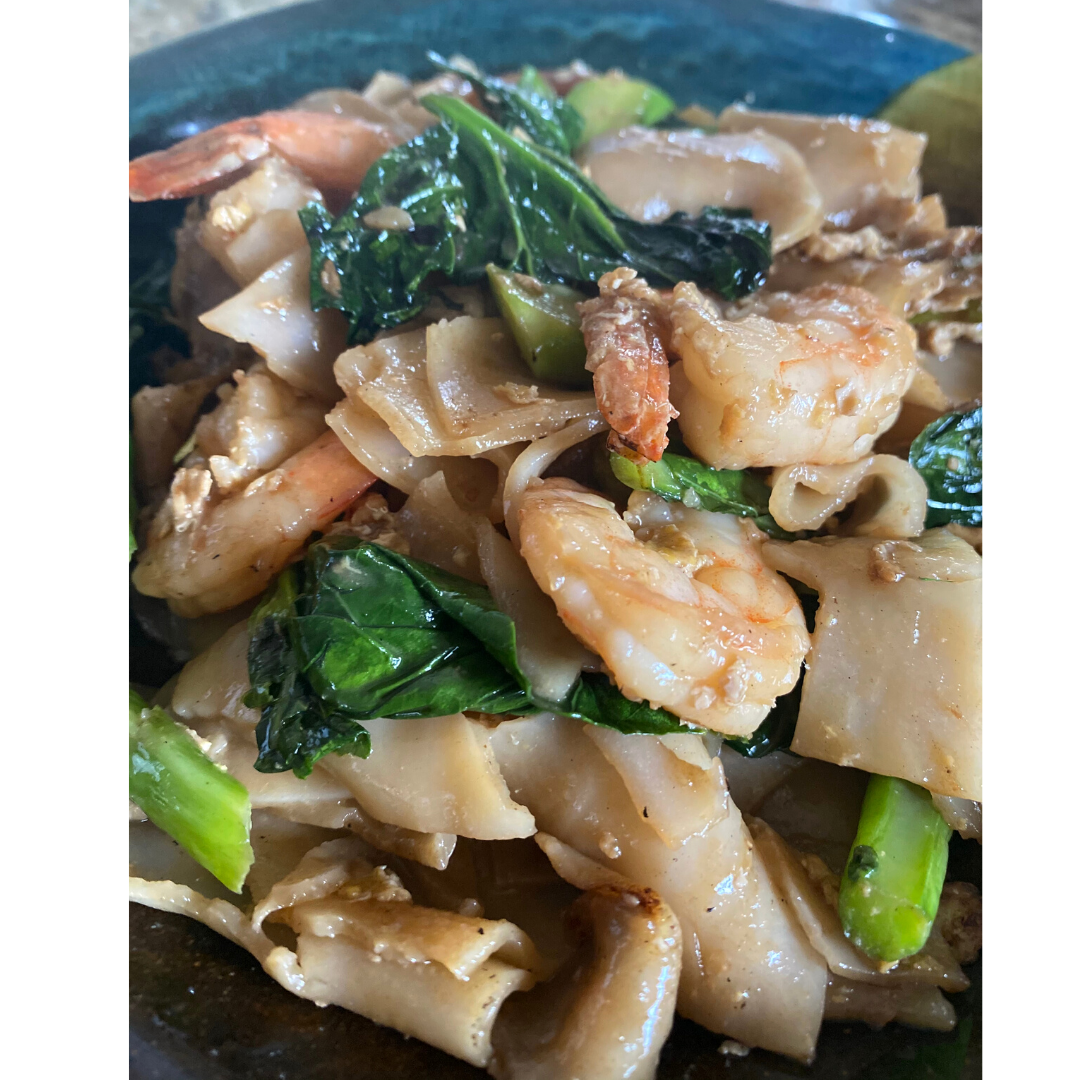 3. Add Chinese broccoli, or regular broccoli, and stir-fry for about 2-3 minutes until tender-crisp.
4. Push the shrimp and veggies to one side of the wok and add the whisked eggs to the other side. Let it cook for a minute, then scramble the eggs until fully cooked.
5. Add the soaked rice noodles to the wok and toss with the shrimp, veggies, and eggs.
6. In a small bowl, combine soy sauce, oyster sauce, sugar, white vinegar, and black pepper together and mix well. Add the sauce to the wok and stir-fry until the noodles are evenly coated with sauce.
7. Once everything is mixed well, turn off the heat, and transfer the Shrimp Pad See Ew to a serving plate.
8. Garnish with some fresh cilantro and serve hot!
Now, weren't those noodles just divine? The juicy shrimp, perfectly cooked rice noodles, and fresh veggies, all coated in a sweet and tangy sauce, will leave you wanting more. So mark my words, whenever you're in the mood for some Thai cuisine, Shrimp Pad See Ew should be on your list!