Hey y'all, I've got a delish recipe that I can't wait to share with you. I'm talking about a mouth-watering Beef & Broccoli Stir Fry with Vermicelli noodles that is going to take your taste buds on a ride like never before. And guess what? It's super easy to make too!
Beef & Broccoli Stir Fry with Vermicelli noodles
Let's start with the ingredients, shall we?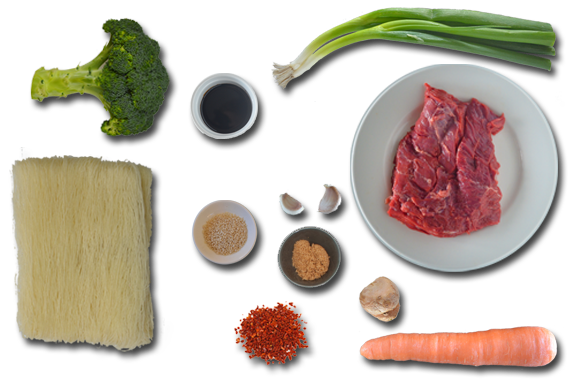 Ingredients
500g beef steak, sliced into thin strips
1 head of broccoli, chopped into florets
1 red pepper, sliced thinly
1 yellow pepper, sliced thinly
2 cloves of garlic, minced
1 tablespoon of ginger, minced
2 tablespoons of soy sauce
1 tablespoon of oyster sauce
1 tablespoon of olive oil
1 pack of vermicelli noodles
Salt and black pepper to taste
Now, let's get this party started.
Instructions
First things first, cook the vermicelli noodles according to the package instructions and set them aside.
Next, heat up a wok or a large frying pan over high heat and add the olive oil.
Once the oil is hot, add the beef strips and stir fry them until they are browned on the outside but still pink in the middle. Remove them from the pan and set aside.
Add the broccoli florets, red pepper and yellow pepper to the same pan along with a splash of water. Cover the pan and let them cook for about 2-3 minutes or until they are tender.
Once the veggies are cooked, add the minced garlic and ginger to the pan and stir fry for about 30 seconds until fragrant.
Now, add the beef strips back into the pan along with the soy sauce and oyster sauce. Stir everything together until the sauce has thickened and the beef is cooked through.
Finally, add the cooked vermicelli noodles to the pan and toss everything together until the noodles are coated in the sauce and heated through.
Season with salt and black pepper to taste and serve hot.
And there you have it, folks! A delicious Beef & Broccoli Stir Fry with Vermicelli noodles that is sure to please everyone's taste buds. Make sure to try this one out and let me know what you think in the comments below.
Enjoy!